Durham Taxi Cab Rate System
The table below explains the Taxi Cab Fare System for trips from the Durham City to locations within the Raleigh-Durham service area.
Pursuant to City Code, a surcharge of $1.00 per trip will be added to the taxi fare. Additionally, a fuel surcharge, as approved by Durham City Council, in the amount of $1.00 (according to the price of fuel) may be added.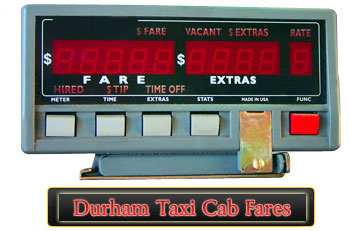 Maximum meter rates:
---
Meter rates are charged for trips within the taxi service area . Fares outside the service area may be charged at the meter rate or negotiated between the customer and driver.
$3.60 Drop Charge
$0.25 Each Additional 1/8 Mile
$0.25 Waiting Time, per 60 seconds
$0.25 Each piece of baggage in excess of 3
$2.00 Each additional mile
$5.60 For first mile
No hidden costs. No surprises. Our City Rates is the best
Our Best Rates to Raleigh-Durham International Airport:
---
| | | | |
| --- | --- | --- | --- |
| Washington Duke Inn | $32 | Duke University | $27 |
| Duke Hospital | $32 | UNC | $35 |
| University Inn | $32 | UNC Hospital | $35 |
| Marriott Civic Center | $32 | Central Campus | $27 |
| Brookwood Inn | $32 | Station Nine | $27 |
| Hilton Durham | $32 | NCCU | $25 |
| Courtyard Marriott | $32 | NCSSM | $27 |
| | | | |
please call us for a price estimate at (919) 672-8448